'All The Gold You Can Eat' animation on the discovery of ormus by David Hudson from Eric Plott on Vimeo.
SCIENCE
•Purchase O.R.M.E.  •Orme- Science   •About our ORME/FAQ  •Orme Health Blog •Orme Testimonials •Vimeo Orme •Royal Champion Alliance  •Human Experiments •Ormus Safety?

---
The center of the periodic chart of elements consists of what are known as the "transition elements," meaning that they can transit from metallic to monatomic or diatomic via chemical treatment or through other means — what some would refer to as "shadow chemistry" or "arcane chemistry" or even "alchemy".
---
Take gold for example. When you have two or more gold atoms in a microcluster, it will have metallic properties, but if you have only one atom, it will then have ceramic properties, which means that it becomes chemically inert but at the same time will have superconductive capabilities even at room temperature. The weight of these amazing materials can also change by heating, becoming lighter, even to the point of levitation. Because it is chemically inert, it can be ingested for health, wellbeing and super-energizing at the cellular level.
It's amazing stuff. The reactions required to make these astonishing materials cause boosts in the presence of hydrogen. When more hydrogen is present, the surface tension of water (or any other liquid) is reduced. When ingesting any liquid with a reduced surface tension of the water molecule itself, the result is a reduction in the surface tension of our cell walls. That allows a greater influx of oxygen which displaces carbon dioxide trapped in the cells and also increases the uptake of any other nutrients present.   
 • Alchemy • Alien • Consciousness • Documentary • Facts •Food • Health • Information • Life • Religion • Revolution • Space • Technology •Truth about White Powder Gold or ORME (Orbitally Rearranged Mono-atomic Elements)
'All The Gold You Can Eat' animation on the discovery of ormus by David Hudson from Eric Plott on Vimeo. Monatomic:Truth about White Powder Gold or ORME (Orbitally Rearranged Mono-atomic Elements)   Repair cellular makeup is more of a correct term. DNA was perfect upon birthing, however rebuilding or "Correcting" comes into existence when we are faced with daily trauma such as pollution, radiation, poisons/toxins that damage the body's innate immune system. It is best to take proper precautions with one's health procurements; using things such as Superfoods, Water Fasting (Optimum Water), Organic Wildcrafted produce such as Fruits, Veggies, and...
  Not only do our cells communicate via chemicals and electricity in our nervous system and throughout other processes, but also through the exchange of photons, or light particles. The human body is a marvelous bioelectric machine, and all of its processes depend on the clear and (ideally) unimpeded conduction of electrical "messages" required to carry out those processes. Light, as proven by fiber optics, can carry more information than other storage forms. As mentioned above, these materials are superconductive and, therefore, change our bodies at the cellular level, from our organs, muscles, and tissues to our brain and nervous system, into superconductors of a greatly increased flow of photons, greatly increased because the materials themselves are in a sense "liquid (or powdered) light." It's like installing 'gold tipped' wires on your brain synapse. Put another way, you could say that monatomics transform the body's "wiring" from being simple copper cable to being wired with fiber optics, where the same "width" of wiring can carry 1,000 times as much 'processing' information.
Although sometimes subtle, this is an energy that you can unmistakably feel, even to the point of being overwhelmed if too large a dose is taken. Where most "energy drinks," or in industry trade language, "functional beverages," use sugar and caffeine and in some cases herbs and vitamins that boost energy at a metabolic level, the materials we're using cause energy at the cellular level that is far more akin to electrical output than it is to a temporary burst at the metabolic level or the level of chemical conversion in the muscles. As you can see by our Kirlian photography, the "electrical" output tells an astonishing story. This electrical output also increases the electrical, or electromagnetic, field of the user.
THE PHYSICS OF MONOATOMIC ELEMENTS
Excerpted from an Article Originally Written by Everett Karels
Classical science teaches us that the three phases of matter are gasses, liquids, and solids (and the newer plasmas, Bose-Einstein condensates, and liquid crystals). Some solids crystallize into a lattice structure called metals. What classical science does not teach us is that there is, in fact, another phase of matter called monatomic. These monatomic materials have ceramic-like properties.
Microclusters
Nuclear physicists discovered in 1989 that the atoms of some elements exist in microclusters. These are tiny groups of between two and several hundred atoms. Most of the transition group, precious metals in the center of the periodic chart, exhibit a monoatomic state. If you have more than a specific number of these atoms in a microcluster, the atoms will aggregate into a lattice structure with metallic properties. If you have fewer than that critical number of atoms, that microcluster will disaggregate into monatomic atoms with ceramic properties. Monatomic atoms are not held in position by electron sharing with their neighboring atoms as are atoms in a classical lattice structure. The critical number of atoms for rhodium is 9, and the critical number of atoms for gold is 2.
The significance of this is that if you have two or more gold atoms in a microcluster, it will exhibit metallic characteristics. However, if you have 9 or fewer atoms in a microcluster of rhodium atoms, the microcluster will spontaneously disaggregate to become a group of monatomic rhodium atoms. You might wonder why there is one equilibrium state at a certain deformation level and a different equilibrium state at a different level of deformation. This is a question for nuclear scientists to ponder.
It has been observed that the valence electrons of monatomic elements are unavailable for chemical reactions. This means that monatomic atoms are chemically inert and have many of the physical properties of ceramic materials. Because the valence electrons are unavailable, it is impossible to use standard analytical chemistry techniques to identify a monatomic element.
After reading the above statement, one observer commented that the statement is not altogether true. He says: "There is a sort of shadow chemistry which still works on monoatomic elements. David Hudson speaks of the same color changes in monatomic chemistry as occurring in metallic chemistry. From alchemical understanding, I suspect that similar chemical reactions still occur but at a much-reduced rate. In other words, a chemical process which takes a few days with metallic chemistry may take months or years using this "shadow chemistry." For the sake of consistency, we might want to call this "shadow chemistry" "alchemy."
What the observer says may be true, but he doesn't explain the physical mechanism at work here. Are the valence electrons unavailable for reactions in monatomic elements or not? Also, simply assigning a name to the phenomena doesn't explain the phenomena.
These are very recent discoveries, and the full implications have yet to be evaluated by the scientific community. You won't find this in textbooks yet.
In general, a metallic element is physically stable and is a relatively good conductor of both heat and electricity and is usually chemically active. (Metals typically rust and corrode.) To the contrary, monatomic atoms of the same element behave more like a ceramic in that they are poor conductors of both heat and electricity and are chemically inert. Also, according to Hudson, monatomic elements exhibit the characteristics of superconductors at room temperature.
Monatomic:
Russian scientists at the Institute of Mineralogy, Geochemistry, and Crystal Chemistry of Rare Earth's in Kiev explicitly state in their literature that atoms in lattice structures are metallic in nature and that these same atoms in the monatomic state are ceramic in nature. However, Dr. Kogan of the institute does not support all of Hudson's findings as being scientifically valid. It would be worthwhile if we could obtain a detailed critique of Hudson's work from that institute.
Monatomic atoms have been observed to exist in all the heavy elements in the center of the periodic table. These are the elements which have "half-filled" bands of valence electrons and include the following elements. Their atomic numbers are given in parenthesis (the atomic number represents the number of protons in the nucleus.) Ruthenium (44), Rhodium (45), Palladium (46), Silver (47), Osmium (76), Iridium (77), Platinum (78), and Gold (79). Other metallic elements in the same part of the periodic table have also been observed in microclusters. Because the atoms of monatomic elements are not held in a rigid lattice network, their physical characteristics are quite different from atoms which are locked in the lattice. Thus, it is the grouping of atoms which defines the physical characteristics of the element; not just the number of neutrons and protons in the nucleus as previously believed. If you don't have a lattice network, you don't have a metal even though the atoms of the two forms of matter are identical!
The implication here is that there is an entirely new phase of matter lurking about the universe. This form (phase) of matter is comprised of monatomic elements; a heretofore unknown form (phase) of matter. They have remained unknown for so long because they are inert and undetectable by normal analytical techniques.
This might be nothing but a scientific curiosity except for the fact that Hudson now claims that a relatively large amount of this previously undiscovered monatomic matter seems to exist in the earth's crust.
How could it be that a small percentage of the earth's matter could be comprised of a material which, heretofore, has been completely undiscovered? It has to do with the theory of analytical chemistry. None of the detection techniques of analytical chemistry can detect monatomic elements. They can only detect elements by interacting with their valence electrons. Because the valence electrons of monatomic atoms are unavailable, the atoms are unidentifiable. To detect a monatomic element requires that you first convert it from its monatomic state to its normal state to allow the element to be detected with conventional instrumentation. As a result, this phase of matter has existed as a stealth material right under the noses of scientists without detection until very recently.
Some observers claim that there should be reliable detection techniques for monatomic matter, but you have to know what you are looking for to make use of the techniques. If you do not suspect that monatomic matter exists, it is unlikely you will accidentally find it.
The monatomic form of an element exhibits physical characteristics which are entirely different from its metallic form. These differences are currently being investigated by nuclear physicists, so it isn't possible to make an exhaustive list of the differences. A few of the differences will be noted.
Classical literature states that the white powder has a fluorescent-like glow. Hudson says that this powder behaves as a superconductor at room temperature, giving it very interesting properties. Because it is a superconductor, it tends to "ride" on the magnetic field of the earth, giving it the powers of levitation. It has been found to be very difficult to determine the specific gravity of monatomic elements because the weight varies widely with temperature and the magnetic environment. Under some circumstances, monatomic elements weigh less than zero! That is, a container full of monatomic matter could be observed to weigh less than the empty container.
Simply put, the torus is nature's perfect balanced dynamic energy flow process. It consists of a central axis, vortices at each end, and a surrounding energy field. The energy flows through one vortex, moves along the axis, out the second vortex, wraps back around the circumference, and passes again through the original vortex. This closed, self-sustaining system is widely accepted to represent perfection of energy flow.
This torus is at the root of all forms. Every atom, cell, animal, planet, person, planetoid, and even the galaxy itself, is at the core, a torus. These forms are easily recognizable in many of nature's most powerful and simple creations. Whirl-pools and tornados; apples and tree trunks, the Earth, Sun and entire galaxy; are all examples of the torus energy field.
The Human Torodial Field
Humans, both as individuals and in groups, also are surrounded by a toroidal field. The axis of the field passes through the crown of the head and out the center of the groin. The strength of the field is directly related to the vitality of the person it surrounds. Each person's torus in unique but also open to interconnecting with the fields of others.
The combined strength of human torus fields connecting together is best demonstrated when attending events or parties. . Our energy fields can create a sub-conscious kind of telepathy.
Think a large group of people all being exposed to any form of intense media such as a football game or musical concert. The euphoric feeling one experiences as a part of a group all enjoying an event together can be explained through this science. You see, the human body which consists mostly of water is very affected by sound and vibration. This, in turn, can amplify the toroidal field surrounding the body and, in groups, create a sort of human "wifi" as the tori grow and connect. This stimuli and combination effect give the group much stronger power both as individuals and especially overall. The deep, spiritual feeling of interconnectedness is extremely addictive and powerful. All emotions and feelings are infinitely amplified as others combine their energy to the group feeling. This helps us to understand the incredible popularity of concerts and sporting events as well as the effect of mob mentality. Anger can quickly become rage, happiness can become euphoric joy.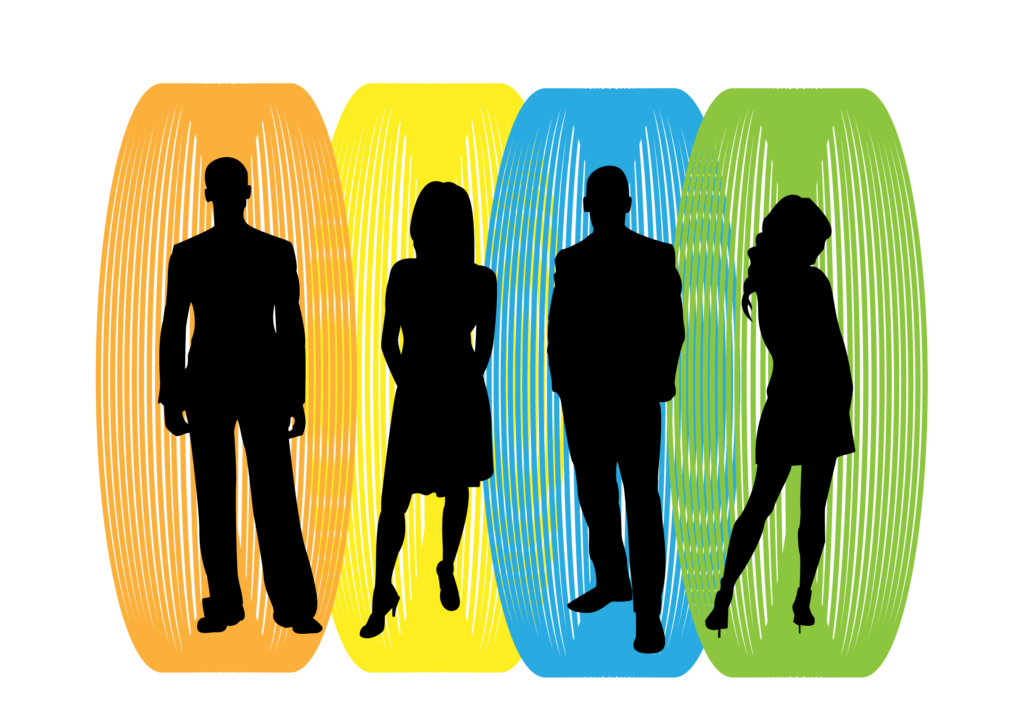 The Torus of the Universe
The power of the torus is likely best demonstrated when we look to the stars. You see, our entire universe is both created from and orbitally controlled, by the many tori. The largest and most powerful torus is at the very center of the Galaxy – the black hole. The Brahma emitted from the black hole is the most influential force ever discovered. Embedded within the black hole's field is another toroidal field (our galaxy, The Milky Way), and embedded within that is the heliosphere (the field surrounding our Sun) and deeper embedded in within that, is our life-giving torus – the Earth's atmosphere.
All of the tori are influenced by and feeding off of each other. Ecosystems within the Earth, plant-life, oceans, animals, all the way down to amoebas and single-celled organisms are all directly influenced (and directly influence) the Earth's atmosphere, and on a very small level, all other connected tori. Through the dynamic exchange of energy we can envision the universal toroidal system connecting every cell and atom connected through our bodies and consciousness, intertwine all of the way up through the atmosphere and through the entire universe!
It is a beautiful thing to comprehend and envision!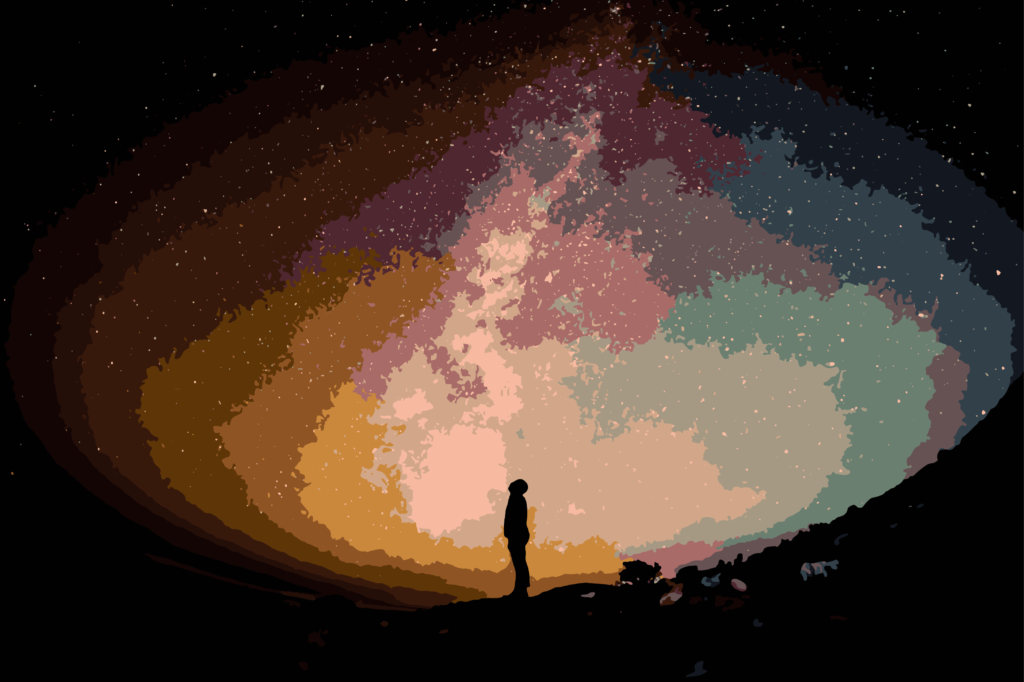 SCIENCE
---
The Yugas and What This Means for Ascension
---
The idea that we're moving in a straight line evolution is contrary to everything that we can see in nature. The truth is, we are going through a cycle which also attract different level of spirits at different levels through the cycle, so the fact is that we're incarnate right now. This means that this consciousness state that's going on right now is relevant to where we are in our personal development.
The Yuga cycles are dictated by the distance our solar system is from the center of our milky way galaxy (the black hole). As we move towards the black hole (as we currently are), we receive greater amounts of Brahma, the absolute enlightenment energy, which awakens the Atman, the personal enlightenment energy of the self. Every sun, every planetoid, everything in space, emits a radio signal and they are all different strengths. The signals coming in from all the other stars and planets is the scientific basis of the effect that different astrological signs/constellations have on us.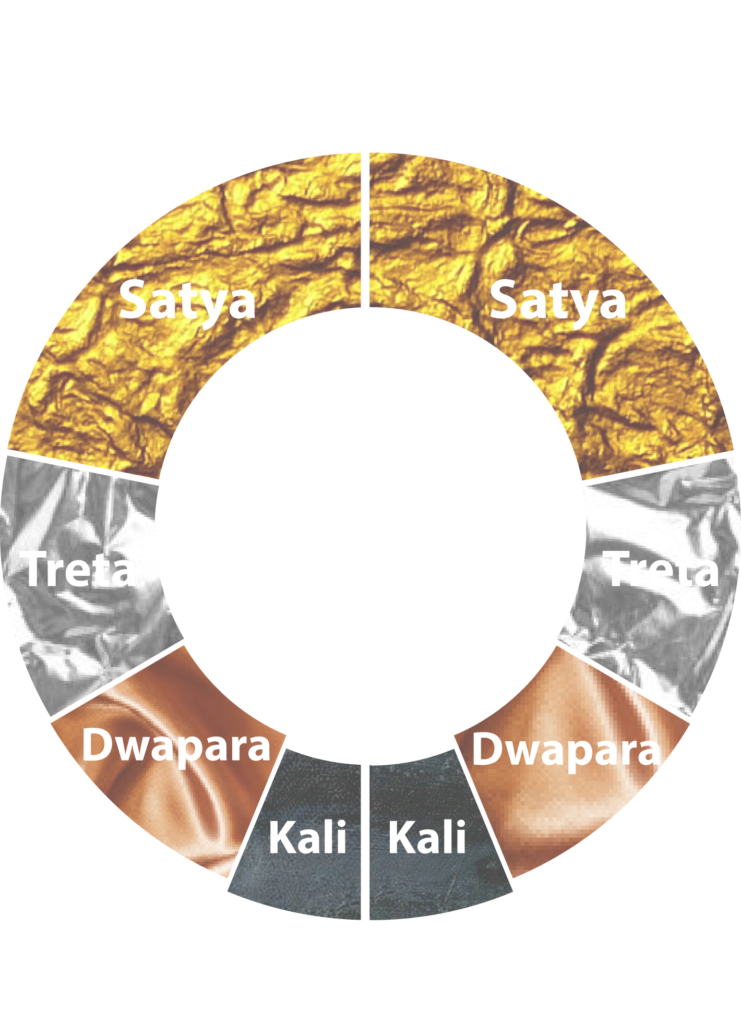 The strongest two signals we get on earth are from our sun (because it's the closest to us), and from the black hole. The black hole is actually still stronger in spite of how close our sun is. So basically, as we get closer to that energy source, it awakens our consciousness, the atmosphere gets denser, life grows more intensely, and then we wake up. As we move farther away from it we go through a devolution period where we lower consciousness and go to a lesser level, the atmosphere gets thinner, all species get a shorter lifespan, and we become less intelligent. At our darkest point, the collective human consciousness is closer to animal behavior, and at our highest point we are closer to the consciousness of Angels/Demons/Ascended Masters/Demi Gods.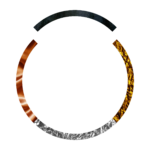 Kali-Yuga (Iron Age / The Age of Material)
Also known as the dark age, the Kali-Yuga takes place while our solar system is farthest from the black hole; people become sinners, lack virtue and become slaves to their own desires and passions. In this period, humanity is simplistic and ruled by material things as that is all we can understand. A rock is a rock, a plant is a plant. Only that which can be tangibly held or possessed is of value. Hostilities between people are quite common place, as leaders move to consolidate the scarce materials deemed most valuable. Information/higher knowledge is also heavily suppressed and held away from the people in elite bodies aiming to control the masses.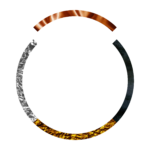 Dwapara-Yuga (Bronze Age / The Age of Energy)
We reside today in the ascension stage of Dwapara-Yuga. In this age, mankind has started to "awaken". Upon our discovery that energy underlies all matter, we ascended from the hopeless grip of basic dependence on raw material. The understanding that material and energy are interchangeable has granted us the gifts of electric power, industrial production, flight and all the "modern" wonders we currently enjoy, and we are just starting to grasp the surface.
Also, within our (partially) recorded history, we have experienced falling Dwapara-Yuga (approximately 3000 B.C. to 700 B.C.). It's important to differentiate that was during the descending period. This difference changes everything. Any description of how things actually were during this period is extremely subjective and a place for much controversy.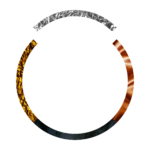 Treta-Yuga (Silver Age / The Age of the Mind)
Only the obscured visions of the last descending Treta-Yuga period have been partially and likely inaccurately recorded into our history. This was the time of the ancient Egyptians and Sumerians. During this period humans possess incredible understanding of inner energies and magnetism. By nearly fully possessing the complete powers of the human mind, body, and energy people are able to complete miraculous feats (Egyptian pyramids, unexplainable monolithic structure, etc.).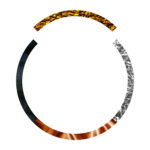 Satya-Yuga (Golden Age / The Age of the Spirit)
At our last peak of the golden age, humanity lived in Atlantis. In the golden period before that it was Lemuria. Because of the destruction of past records in the falling bronze and iron ages, much of these records have been destroyed. As we are moving forward through this bronze age, we are rediscovering and releasing these records. Atlantis was destroyed by catastrophic geological changes followed by the ice age. This is why the clearest recorded history starts after the ice age in the falling silver age with Sumeria, followed by Egypt. 

There is great debate beginning at the highest levels as more and more ancient information is discovered and released to the public.
During the golden age it is said that Humanity is at such a high level of consciousness that we fully understand ourselves and God. "Know thyself and thou shall know the secrets of God and the universe". The global consciousness during the peak of the golden age is currently beyond our fathom.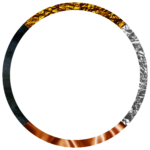 We are at the very beginning of our ascension for the first time in recorded history. The term "modern" when you think of it in this light, takes on a whole new meaning. Since the discovery of steam power, gravity, and the basics of energy, we have made tremendous advances, but make no mistake; we are at the very beginning of understanding the world and universe around us.
During our entire recorded history we have been moving away from the Brahma (Black Hole), and in essence, moving away from enlightenment. Science, religion, and even our understanding of reality are so far from complete. Our new found power (E=MC2) has led us to believe that we are advanced as we became familiarized with the relationship between energy and matter, but in the grand scheme of things we are only reckless adolescents at the very beginning of our understanding. As we continue to awaken this will become more apparent.
Monatomic Orme
(0)
$244.88
Freshly Prepared 
(0)
$344.88
Freshly Prepared 
(0)
$324.88
Freshly Prepared 
(0)
$488.80
In Stock & Fresh For You